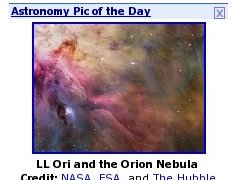 I've written a small Google Homepage plug-in to display the current Astronomy Picture of the Day, along with the photo credits. It scales it using percentages, so the image doesn't screw up browser-window-width like the APOD feed in LiveJournal does. I'd recently switched my news-homepage setup from Excite to Google, and since they provide such a handy API, I couldn't resist.
It links the image thumbnail to the full-resolution version at APOD. It links the section-title to the APOD page itself (handy if you want to read the detailed background of the image). Lastly, it reproduces the complete photo credits section, links and all. It also produces XHTML instead of using HTML <center> tags. (But since I don't know if GH actually emits strict XHTML, this part might not matter.)
I've submitted it to Google for their directory, but until then you can add it to your homepage via this link.